This page is a list of tools and resources available to the campus community.
Student Online Readiness Modules
Note: Be sure you are logged into your "MyCompton" account before opening the below link.

You can help prepare your students for an online course by incorporating modules from the Online Student Readiness Overview made available by the CCC-Online Education Initiative. It is a great resource that helps students get a sense of what is involved with distance learning. The "Student Readiness Overview" is available to faculty to import into their courses via the Canvas Commons under the same name.
DE Orientation Video
The Distance Education Department has an orientation video for students that is available on YouTube. Direct link to the Distance Education Orientation Video.
Passport to Compton
Passport to Compton is an asynchronous online orientation that give students in-depth information about taking courses online at Compton College. This orientation is NOT mandatory; however, all students are enrolled into the training. You can find a copy of this orientation in Canvas Commons under the same name.
Accessibility Tools
Blackboard Ally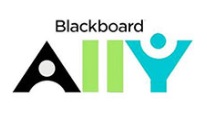 Blackboard Ally is a tool that is available to assist you with creating accessible documents. Once you upload a document, an accessibility report will be generated indicating how accessible the document is. This is a great tool for help on how to improve document accessibility. Likewise, students also have access to this tool to give them access to alternative formats that suit their needs. Below you will find a few resources about using Blackboard Ally.


Popetech

The Popetech tool is available to assist you with building accessible Canvas pages. Similar to the Canvas accessibility checker, use this tool to scan your Canvas pages to identify potential accessibility issues.
Self-Guided Accessibility Resources
There are self-guided resources available in Canvas that are available to faculty on how to make Word, PowerPoint, and PDF documents accessible. Please contact the DE Department to be added to self guided resources that are available (distance_ed@compton.edu).
Other Subscriptions & Free Tools
Below is a short list of common tools used by faculty at Compton College. You will also find additional training resources for each.
---
Please contact distance_ed@compton.edu for more information on the resources available or to request training on any of the above tools.