ECC Compton Center Accreditation
Self-Evaluation Information
This Comprehensive Institutional Self-Evaluation Report is submitted to the Accrediting Commission for Community and Junior Colleges (ACCJC) for the purpose of assisting in the determination of the institution's Application for Accreditation.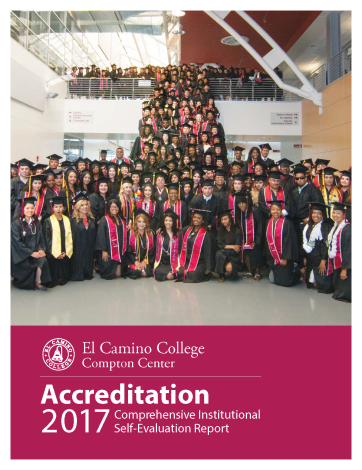 Table of Contents
ACCJC Visiting Team
ECC Compton Center External Evaluation Team Roster (PDF)
External Evaluation Team Activities
Meet and Greet with External Evaluation Team Members
Monday, March 6, 2017, 2:30 p.m.-3:00 p.m.
Student Lounge
Campuswide Forums with External Evaluation Team Chair
Tuesday, March 7, 2017 at 1:00 p.m. & 6:00 p.m.
Little Theater
Third-Party Comments to ACCJC
A third-party comment may be submitted to the Commission at any time as it relates to the compliance of a member institution with Eligibility Requirements, Accreditation Standards, or Commission policies. Such comment must be submitted in writing, signed, and accompanied by the affiliation, return address and telephone number of the correspondent. Commission staff will review all third-party comments to assess its applicability to Eligibility Requirements, Accreditation Standards, or Commission policies. Institutions will be provided with an opportunity to review applicable third-party comments.
The ACCJC External Evaluation Team visit to ECC Compton Center is scheduled for Monday, March 6 through Thursday, March 9, 2017. The Accrediting Commission will consider Compton Center's application for Candidacy at its June 2017 meeting.
Individuals who wish to make comments on the institutions that are undergoing review in the current semester and that are being considered by the Commission at its next meeting, should use the Third Party Comment Form and be sure to include their name, address, phone number, and email address. In order to ensure evaluation by the external evaluation team, third-party comment should be received by the Commission no later than five weeks before the evaluation team visit. The evaluation of third party comment will become part of the Commission review of the college at the scheduled Commission meeting.
For more information and to access the Third Party Comment Form click here.
Communications from ACCJC